Frog
Saturday, August 26, 2006, 21:20 - Humor
A guy is taking a walk and sees a frog on the side of the road. As he comes closer, the frog starts to talk. "Kiss me and I will turn into a princess."
The guy picks the frog up and puts it in his pocket. The frog starts shouting, "Hey! Didn't you hear me? I'm a Princess. Just kiss me and I will be yours."
The guy takes the frog out of his pocket and smiles at it and puts it back. The frog is really frustrated. "I don't get it. Why won't you kiss me? I will turn into a beautiful princess and do anything you ask."
The guy says, "Look, I'm a computer geek. I don't have time for women. But a talking frog is very cool!"
Management Lessons
Friday, August 25, 2006, 03:55 - Humor
Lesson 1:
A crow was sitting on a tree, doing nothing all day. A small rabbit saw the crow, and asked him, "Can I also sit like you and do nothing all day long?" The crow answered: "Sure, why not." So the rabbit sat on the ground below the crow, and rested. All of a sudden, a fox appeared, jumped on the rabbit and ate it.
Management Lesson: To be sitting and doing nothing, you must be sitting very, very high up.
Lesson 2:
A turkey was chatting with a bull.
"I would love to be able to get to the top of that tree," sighed the turkey, "but I haven't got the energy."
"Well, why don't you nibble on some of my droppings?" replied the bull. "They're packed with nutrients."
The turkey pecked at a lump of dung and found that it actually gave him enough strength to reach the first branch of the tree.
The next day, after eating some more dung, he reached the second branch. Finally, after a forenight, there he was proudly perched at the top of the tree. Soon he was promptly spotted by a farmer, who shot the turkey out of the tree.
Management Lesson: Bullshit might get you to the top, but it won't keep you there.
Lesson 3:
A little bird was flying South for the winter. It was so cold, the bird froze and fell to the ground in a large field. While it was lying there, a cow came by and dropped some dung on it. As the frozen bird lay there in the pile of dung, it began to realize how warm it was. The dung was actually thawing him out! He lay there all warm and happy and soon began to sing for joy.
A passing cat heard the bird singing and came to investigate. Following the sound, the cat discovered the bird under the pile of cow dung and promptly dug him out and ate him!
Management Lessons:
1) Not everyone who drops shit on you is your enemy.
2) Not everyone who gets you out of shit is your friend.
3) And when you're in deep shit, keep your mouth shut.
Battlefield 2
Sunday, August 21, 2005, 23:46 - Humor
I totally love to play
Battlefield 2
, and can get really into the game. But this is even a little bit overdone for me :)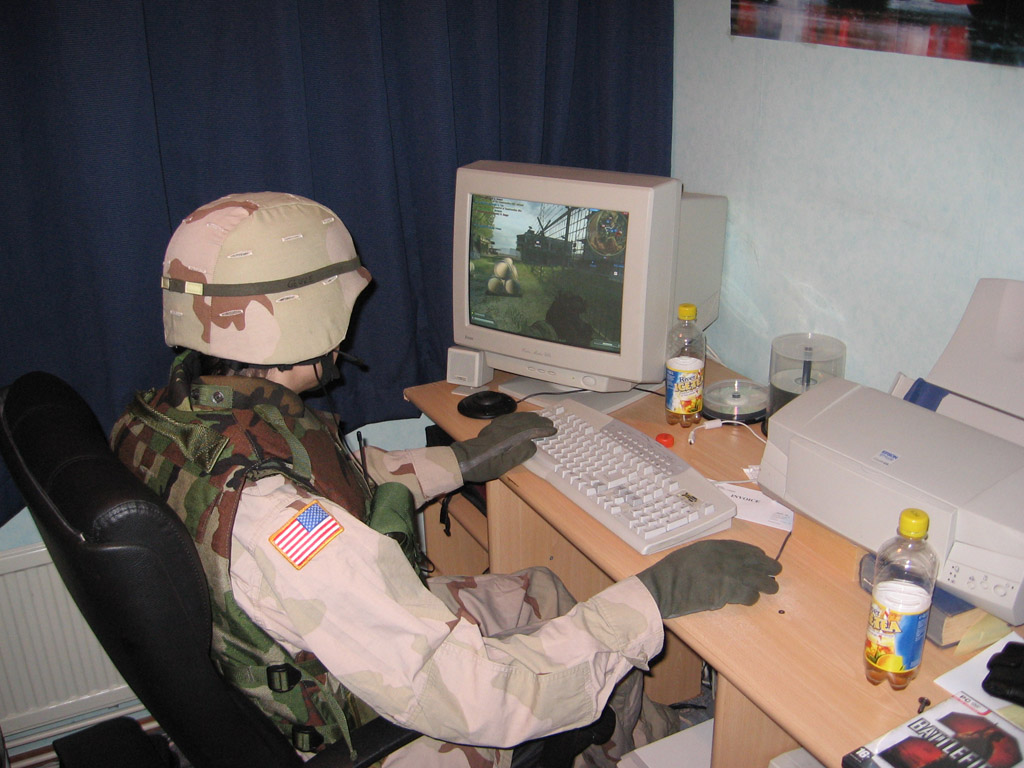 Thumb Drive
Thursday, June 23, 2005, 02:25 - Humor
Solid Alliance
sells
a USB pen in the shape of a thumb. Makes for a change in the office :)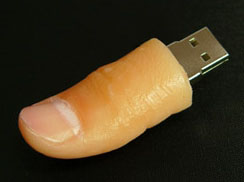 Stress?
Tuesday, June 14, 2005, 09:51 - Humor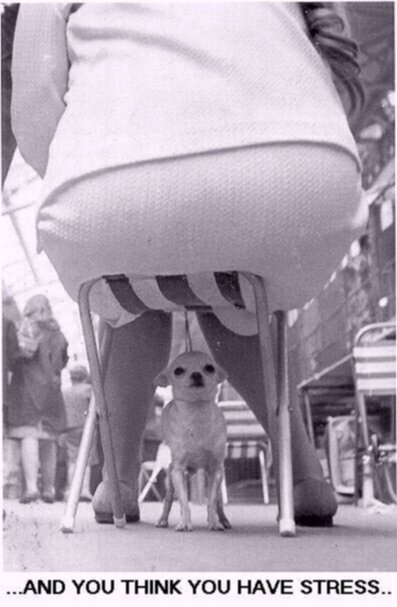 This t-shirt...
Sunday, May 29, 2005, 01:05 - Humor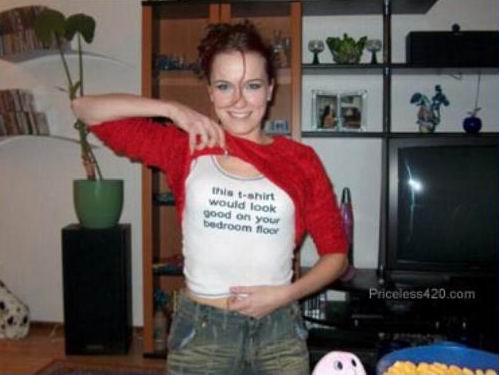 Slang Dictionary
Sunday, March 13, 2005, 02:32 - Humor
AEROPLANE BLONDE - One who has bleached/dyed her hair but still has a 'black box'.
AUSSIE KISS - Similar to a French kiss, but given down under.
BADLY PACKED KEBAB - A vulgar (but still excellent) term for the female genitalia.
BEAVER LEAVER - A homosexual.
BREAKING THE SEAL - Your first piss in the pub, usually after 2 hours of drinking. After breaking the seal of your bladder, repeat visits to the toilet will be required every 10 or 15 minutes for the rest of the night.
BRITNEY SPEARS - Modern Slang for 'beers', e.g. "Couple of Britneys please, Doreen".
BRUCE LEE - Erect nipple (as in, a hard Nip).
DOUBLE BASS - A sexual position in which the man enters the woman from behind, and then fiddles with the woman's nipples with one hand and her Budgie's Tongue with the other. The position is similar to that used when playing a double bass instrument, but the sound produced is slightly different.
DRINK-LINK - A modern term for a cash point machine (ATM). Named so because it is common to visit one before going out on the booze.
ETCH-A-SKETCH - Trying to draw a smile on a woman's face by twiddling both of her nipples simultaneously.
FRIGMAROLE - Unnecessarily time-consuming foreplay.
F@CKSH1TF@CKSH1TF@CKSH1T - The sound made when driving through too narrow a gap at too high a speed.
GOING FOR A McSh1t - Entering a fast food restaurant with no intention of buying food, you're just going to the bog. If challenged by a pimply staff member, your declaration to them that you'll buy their food afterwards is a McSh1t With Lies.
GREYHOUND - A very short skirt, only an inch from the hare.
HAND-TO-GLAND COMBAT - A vigorous masturbation session.
JOHNNY-NO-STARS - A young man of substandard intelligence, the typical adolescent who works in a burger restaurant. The 'no-stars' comes from the badges displaying stars that staffs at fast-food restaurants often wear to show their level of training.
MILLENIUM DOMES - The contents of a Wonderbra, i.e. extremely impressive when viewed from the outside, but there's actually F@ck-all worth seeing.
MONKEY BATH - A bath so hot, that when lowering yourself in, you go: "Oo! Oo! Oo! Aa!Aa!Aa!".
MUMBLER - An attractive girl in tight shorts or jeans, etc. i.e. you can see the lips moving but can't quite make out what they're saying.
MYSTERY BUS - The bus that arrives at the pub on Friday night while you're in the toilet after your 10th pint, and whisks away all the unattractive people so the pub is suddenly packed with stunners when you come back in.
MYSTERY TAXI - The taxi that arrives at your place on Saturday morning before you wake up, whisks away the stunner you slept with, and leaves a 10-Pinter in your bed instead.
NBR (No Beers Required) - Someone that you'd chat up instantly in the pub. The opposite of a 10-Pinter.
NELSON MANDELA - Rhyming Slang for 'Stella' (the lager).
ONE IN THE DEPARTURE LOUNGE - The need to defecate imminently.
PEARL HARBOUR - Cold (weather). An example of it would be - "It's a bit Pearl Harbour out there!" Meaning - there's a nasty 'nip in the air.
PICASSO @rse - A woman whose knickers are too small for her, so she looks like she's got 4 buttocks.
RAGMAN'S COAT - Untidy and unkempt pubic hair e.g. "That mumbler looks quite fit but I bet she's got a kebab like a ragman's coat!"
RELEASE A CHOCOLATE HOSTAGE - To defecate e.g. " I've got one in the departure lounge, so I'm just nipping out to release a chocolate hostage".
SALAD DODGER - An excellent phrase for an overweight person.
SKIN-CHIMNEY - see BADLY PACKED KEBAB
SPERM WAIL - A verbal outburst during the male orgasm.
STARFISH TROOPER or @rseTRONAUT - A homosexual.
SWAMP-DONKEY - A deeply unattractive woman.
TART FUEL or BITCH PISS - Bottled Alcopops, e.g. Hooch, regularly consumed by young women.
TEN-Pinter - Someone that you'd only chat up after drinking at least 10 pints.
TITANIC - A lady who goes down first time out.
TODGER DODGER - A lesbian.
TWO-BAGGER or DOUBLE BAGGER - Someone that you'd need 2 paper bags to have sex with (1 to cover their head, and 1 to cover yours, in case their bag falls off).
UP ON BLOCKS - Menstruating i.e. out of action, a bit like a car in a garage.e.g. Don't think I'll be in luck tonight lads, the missus is up on blocks".
VAGINA DECLINER - A homosexual.
WALLACE AND GROMIT - Rhyming Slang for 'vomit'.
W*NK SEANCE - During a masturbation session, the eerie feeling that your dead relatives are watching you with disgust.
WYNONA RYDER - Rhyming Slang for 'cider'. e.g. "Pint of Wynona, half a Nelson and a bottle of tart fuel please Doreen".
X-PILES - Unwanted visitors from Uranus.
Back
Next