IT Party next Friday
Wednesday, February 23, 2005, 08:11 - Humor
Like every year at the end of February, we, at the Information Technology - (IT) department, are celebrating the new year and we organise the most crazy party in the city.
Leave all your taboos at home and come join us in the craziest, funkiest, out-of-limits party of the year.
Take your time to prepare youself for the wild, bombastic night that will free your deepest instincts.
We do it IT-style, so get in the mood!
We are attaching a picture of last year's party, so you get an idea of
what you should be expecting
...
Nicolas Erd
German zoo tempts gay penguins to go straight
Thursday, February 10, 2005, 10:29 - Humor, The News
A
German zoo in Bremen
is trying to get their male penguins to go straight again. They didn't know that they only had male penguins. Several couples have formed by now and one couple even adopted a stone as an egg. The zoo now has imported female penguins from Sweden in an attempt to straigthen the gay penguins up....
Ingrid Betancourt
Monday, February 7, 2005, 03:00 - Reflections, The News
Imagine being held hostage for three years somewhere in the jungle of Colombia! Three years of hardly any contact with the outside world, of being watched all the time, of constant relocation.
It is the fate of the now 43 year old Colombian former presidential candidate
Ingrid Betancourt
who was kidnapped in February 2002 by guerrilla organization FARC (Revolutionary Armed Forces of Colombia).
Her impassioned calls for an end to political corruption and Colombia's vicious civil war had made her a popular public figure, but a dangerous instigator to many within her country's political machine.
Even in captivity she hasn't stopped protesting: she
nearly died
in the course of one of at least three hunger strikes while in captivity.
On Feb. 23, 2005, the anniversary of Betancourt's kidnapping, a book will come out titled "
Searching for Ingrid
", written by her husband Juan Carlos Lecompte.
The book delves into a dirty truth about Colombia: more than a thousand human beings are kidnapped here every year and bartered for ransom. But even a king's ransom cannot get Betancourt and some others out.
The rebels call them "exchangeables" and say they will be freed only in a swap for rebels held in Colombian prisons. Some of the exchangeables - including politicians, soldiers and police - have been captives for eight years.
Frogleap
Saturday, February 5, 2005, 22:49 - Games
Here is a small
Flash game
: move the green frogs from the left to the right and the brown frogs from the right to the left.
Female Brain
Thursday, February 3, 2005, 08:37 - Humor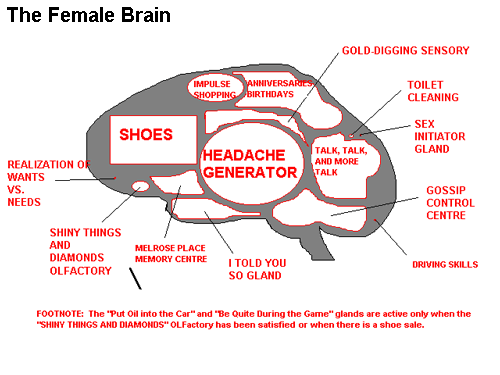 Male Brain
Wednesday, February 2, 2005, 11:18 - Humor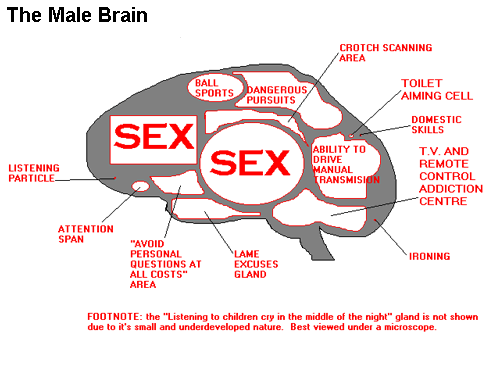 Time Flies!
Tuesday, February 1, 2005, 08:43 - Reflections
The first month of this year is already gone! Another 2678399 seconds or 44639 minutes or 743 hours down the drain.
Only 334 days or 8015 hours or 480959 minutes or 28857599 seconds remaining till 2006...
Back
Next